CCS News
The Prime8 Production Programmer gets some 'touching' updates
Wednesday 11 January, 2017
The Prime8 has gone through a redesign to make it better than before! The Prime8 production programmer is a gang programmer than can program 8 PIC® MCUs simultaneously. It can operate via software control over a USB connection, or it can operate without a PC by storing files inside its memory.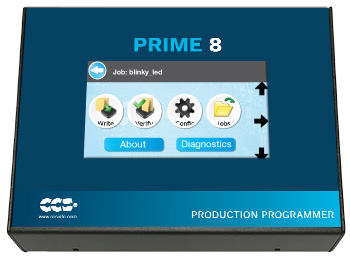 The most impressive update is a touch screen LCD, featuring a much simpler and easy to use user interface. This new UI makes it easy to choose a file and program a file, as well as making it easier to configure the unit. The UI has also been upgraded to show more information about the files stored in its memory.

The speed at which PIC® MCUs can be programmed are also improved. For instance, programming a full PIC24EP256GP206 results in almost 75% reduction in time when using the new Prime8 versus the older models.

The internal memory has been upgraded to 8 megabytes, allowing the user to store eight 1 megabyte files (an improvement over the 2 megabytes and four files of the older models). If a file is larger than 1 megabyte, it can still be stored by using multiple slots of the Prime 8's internal memory. If 8 megabytes of memory isn't enough, it can be expanded using a USB thumb drive connected to the Prime8.

Available Now! Visit: http://www.ccsinfo.com/product_info.php?products_id=P8_gang


Like us on Facebook. Follow us on Twitter.

About CCS:

CCS is a leading worldwide supplier of embedded software development tools that enable companies to develop premium products based on Microchip PIC® MCU and dsPIC® DSC devices. Complete proven tool chains from CCS include a code optimizing C compiler, application specific hardware platforms and software development kits. CCS' products accelerate development of energy saving industrial automation, wireless and wired communication, automotive, medical device and consumer product applications. Established in 1992, CCS is a Microchip Premier 3rd Party Partner. For more information, please visit http://www.ccsinfo.com.

PIC® MCU, MPLAB® IDE, MPLAB® ICD2, MPLAB® ICD3 and dsPIC® are registered trademarks of Microchip Technology Inc. in the U.S. and other countries.