CCS News
NEW! ICD-U80 Programmer/Debugger
Friday 14 October, 2016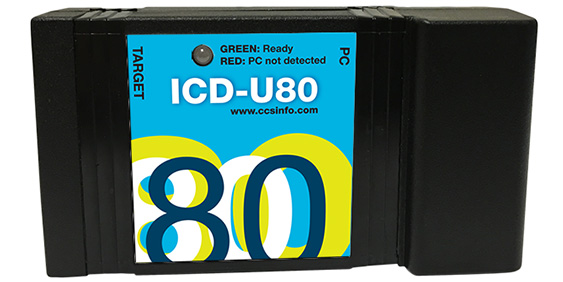 Sku: 53506-1648

Price: $119


Introducing the new ICD-U80 Programmer/Debugger from CCS. The advantages of the ICD-U80 include:

Accelerated programming speed
Integrated Vdd generator to supply 1.5-5.5V to target
Software controlled power to target - no jumpers to change

Check out the complete line of CCS Programmer/Debuggers to fit your needs. http://www.ccsinfo.com/programmers-debuggers.php


Like us on Facebook. Follow us on Twitter.

About CCS:

CCS is a leading worldwide supplier of embedded software development tools that enable companies to develop premium products based on Microchip PIC® MCU and dsPIC® DSC devices. Complete proven tool chains from CCS include a code optimizing C compiler, application specific hardware platforms and software development kits. CCS' products accelerate development of energy saving industrial automation, wireless and wired communication, automotive, medical device and consumer product applications. Established in 1992, CCS is a Microchip Premier 3rd Party Partner. For more information, please visit http://www.ccsinfo.com.

PIC® MCU, MPLAB® IDE, MPLAB® ICD2, MPLAB® ICD3 and dsPIC® are registered trademarks of Microchip Technology Inc. in the U.S. and other countries.