ICD-U64 In-Circuit Programmer/Debugger
Sku: 53505-852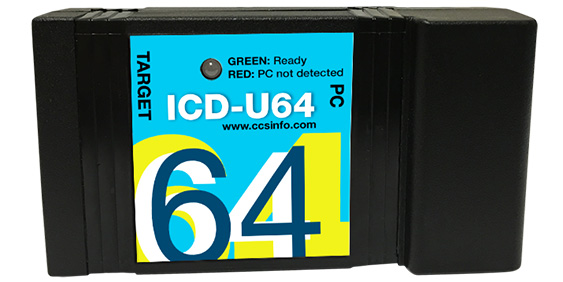 ICD-U64 is a complete In-Circuit Programming and In-Circuit Debugging solution for Microchip's PIC® MCUs and dsPIC®DSCs. The ICD-U64 replaces ICD-U40.


ICD-U64 debug support covers all targets that have debug mode when used in conjunction with CCS IDE Compilers. The unit also provides in-circuit serial programming (ICSP) support for all Flash chips.
The ICD-U64 connects to your PC via a USB port and can power your target board.
The ICD is powered from:
The USB Bus
Power a board at 5.0V by closing the jumper near the ICD jack inside the unit (The unit must be opened)
CCSLOAD, programmer control software supports the ICD-U64 and offers many new key features including; powerful command line options in Windows/Linux, extensive diagnostics, easy to use production interface, and enhanced security options.
ICD-U64 can be paired with Tag-Connect, a cost saving production ICSP Programming cable that eliminate the need for a ICSP connector on your product. Tag Connect provides a direct pin-to-circuit connection, saving space on your PCB. The modular end works with existing ICD programmers as well as the ICD-U64.
Please note that CCS will support both ICD-U40 and ICD-S40 units for customers.
For a comparison to other Debuggers please visit www.mcuspace.com