EZ Web Lynx 5.0V
Sku: 59100-850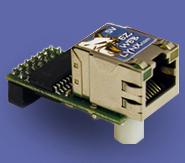 In stock (ships immediately)
$54.00
Simplify your Ethernet Integration with EZ Web Lynx.
The 5.0 Volt EZ Web Lynx is a compact device, smaller than a 9V battery, that packs a punch of power and capabilities. EZ Web Lynx has the capability to upload custom web pages, view the condition of 11 programmable I/O pins, change the device settings and view incoming data. EZ Web Lynx can even send event-driven or status e-mails. The power of versatility present in EZ Web Lynx can drastically cut development time and cost. It is easy to integrate into new or existing products, making it ready-to-use.
For more information regarding the specifications or features of this product, please see our Features and Specifications page.
Get started quickly using the 5.0 Volt EZ Web Lynx Development Kit!
Need a low voltage solution? Check out the 3.3V EZ Web Lynx!