CCS News
Project Time Tracking
Thursday 14 October, 2021
Ever wonder how much time it took to code and debug a project? The Project Watch utility within the CCS C-Aware IDE makes keeping track of project development easier than ever!

The Project Watch tool provides the user detailed log information on the current working project. Time-management can be viewed through either a 'Daily Activity' log, including total editing and debugging time, or 'Specific Activity' log containing time the specific activity occurred.

Long periods of time where the keyboard is not used are excluded from the times.

View logs, contained in the Project Watch tool by selecting between two view modes: 'Selected Date(s)' or 'All Entries'. The 'Selected Date(s)' view shows the log information for the currently selected day(s) on the calendar. The 'All Entries' view shows the entire log that has been collected for the project, including a summary of the log and detailed information separated by each day.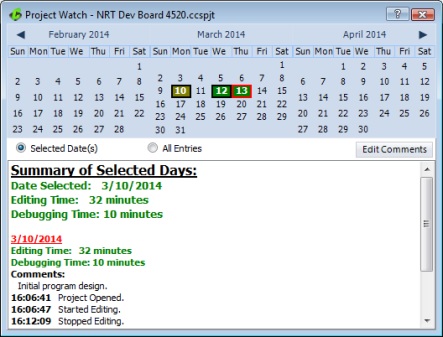 Additionally, comments can be added or modified to a Project Watch log from a pop-up menu by right-clicking on any date that contains log information. Any changes to the comments will be saved to the project log and displayed in the log information window.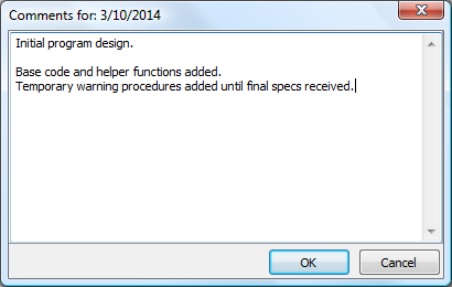 The Project Watch feature is available under the 'View' ribbon in the IDE.





Like us on Facebook. Follow us on Twitter.

About CCS:

CCS is a leading worldwide supplier of embedded software development tools that enable companies to develop premium products based on Microchip PIC® MCU and dsPIC® DSC devices. Complete proven tool chains from CCS include a code optimizing C compiler, application specific hardware platforms and software development kits. CCS' products accelerate development of energy saving industrial automation, wireless and wired communication, automotive, medical device and consumer product applications. Established in 1992, CCS is a Microchip Premier 3rd Party Partner. For more information, please visit https://www.ccsinfo.com.

PIC® MCU, MPLAB® IDE, MPLAB® ICD2, MPLAB® ICD3 and dsPIC® are registered trademarks of Microchip Technology Inc. in the U.S. and other countries.