CCS News
Windows 11
Tuesday 31 August, 2021
The latest version of Windows, Windows 11, will be rolling out to the public in the near future. Here is what you need to know in order to take advantage of the newest version of the OS while continuing to use CCS, Inc. products.

Most PCs on the market right now will be able to support Windows 11. For those that want to know if their current PC is supported, Microsoft has released the minimum system requirements for installing Windows 11 which are as follows:


* Processor with a clock speed of at least 1 GHz and has 2 or more cores
* At least 4 GB of RAM
* 64 GB of available storage
* UEFI and Secure Boot capable
* A graphics processor that is compatible with DirectX 12 or later (This can be checked by typing dxdiag into windows search and running the preinstalled app)
* A high definition display (720p) with a screen that is at least 9"
* Trusted Platform Module (TPM) support (Most computers that meet the above requirements and are less than five years old will support TPM)


The majority of PCs that were manufactured in the last few years should meet these requirements. Most of these system requirements are geared towards increasing security on the new OS, partially achieved by preventing older hardware from running Windows 11. Microsoft plans to release tools to help determine hardware eligibility once Windows 11 is widely available.

Windows 11 brings new features and a sleek new look while still functioning very similar to Windows 10 which will make the transition fairly simple. The new Windows includes new features like Widgets and Snap layouts and Desktops. Android apps will also be making an appearance in the new OS.

The Start menu returns in Windows 11, which can be accessed in the middle of the Taskbar. It still includes the ability to search for installed apps as well as view an alphabetized list of apps, just like Windows 10. The new Start menu will be very recognizable to those upgrading from Windows 10.

The new snap layouts feature allows for easier and more predictable window snapping. This allows users to better utilize their screen space for multitasking purposes. Desktops also make a return to Windows 11 allowing users to maintain multiple desktops, allowing for separation between work, school, or personal desktops.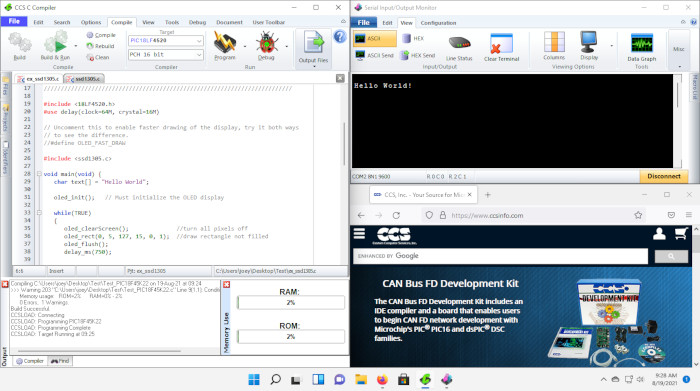 The Widgets feature is a new way to view news and information in Windows 11. Widgets can be curated to show you personalized content, news and info that you want to see. The Widgets button is located on the Taskbar and can be hidden if desired, allowing users to choose if they want to take advantage of this feature.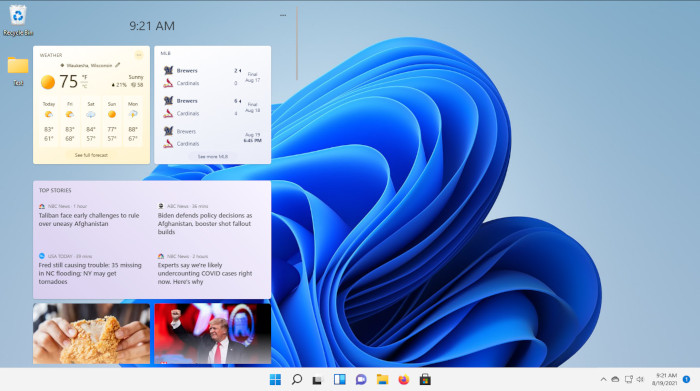 Windows 11 will be introducing Android apps to your PC. Microsoft is planning to allows users to display Android apps in the Microsoft store and download them through the Amazon Appstore. Using common mobile apps on your PC will be an interesting new feature for Windows that Microsoft plans to implement later this year.

For our customers that make use of the CCS C Compiler as well as our programmers/debuggers, there should be little to no difference going from Windows 10 to Windows 11. Microsoft has committed to maintaining compatibility between Windows 10 and 11, this means that the CCS C Compiler will install and run without the need for any extra changes.

This also includes our USB drivers for CCS programmers/debuggers and other software tools. This will allow customers to continue programming Microchip PIC devices on Windows 11 with the same hardware and software they currently use.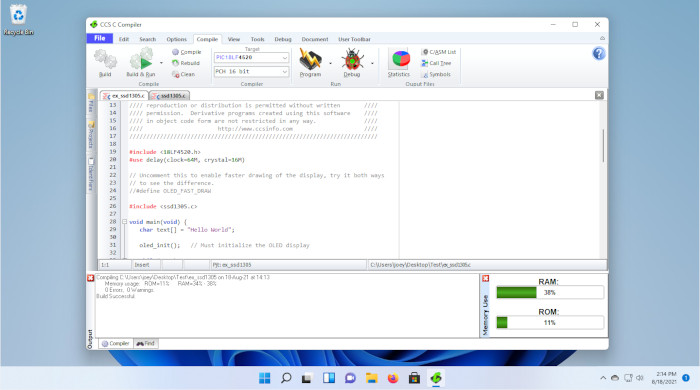 Windows 11 preview builds can be installed by becoming a part of the Windows Insider Program. The Insider Program is free and it's a great way for excited Windows users to try out the new OS and check out its new features ahead of time. For those who want to wait, Microsoft plans to begin rolling out upgrades to Windows 10 users in early 2022.

Windows 11 brings a new sleek and clean redesign to Windows while still keeping much of the functionality of the previous Windows 10. Most users should find an easy transition to the new version and should find compatibility with all the apps they are used to using on Windows 10. For the CCS customers that are looking to upgrade, the switch should be fairly easy while allowing you to continue using CCS products.



Like us on Facebook. Follow us on Twitter.

About CCS:

CCS is a leading worldwide supplier of embedded software development tools that enable companies to develop premium products based on Microchip PIC® MCU and dsPIC® DSC devices. Complete proven tool chains from CCS include a code optimizing C compiler, application specific hardware platforms and software development kits. CCS' products accelerate development of energy saving industrial automation, wireless and wired communication, automotive, medical device and consumer product applications. Established in 1992, CCS is a Microchip Premier 3rd Party Partner. For more information, please visit https://www.ccsinfo.com.

PIC® MCU, MPLAB® IDE, MPLAB® ICD2, MPLAB® ICD3 and dsPIC® are registered trademarks of Microchip Technology Inc. in the U.S. and other countries.