CCS News
New IDE updates to enhance viewing of large projects!
Wednesday 24 September, 2014
The CCS C-Aware IDE's Files navigation panel and file tabs have been improved to enhance viewing of large project files. The File tab in the navigation panel now adds subfolders for project files that are not in the main project directory. Simply collapse any folder to hide extraneous files for viewing. This new function is especially useful for projects that have files split into multiple directories which makes it easier to find the files you are searching for.

All open file tabs maybe viewed in multiple rows, making it handy for keeping many files open at the same time. No longer is it necessary to tab in succession until a file is found. This feature can be turned on under 'Options' > 'IDE' > 'General' then check 'File Tabs Span Multiple Rows' option.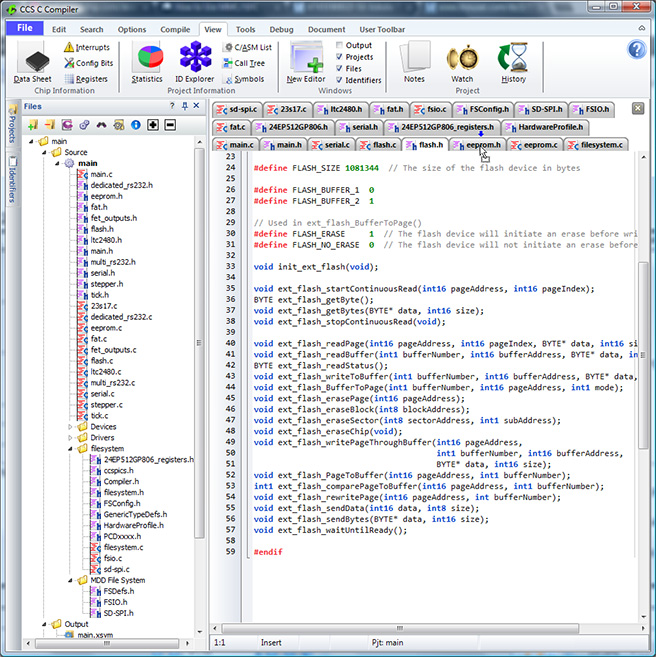 Like us on Facebook. Follow us on Twitter.

About CCS:

CCS is a leading worldwide supplier of embedded software development tools that enable companies to develop premium products based on Microchip PIC® MCU and dsPIC® DSC devices. Complete proven tool chains from CCS include a code optimizing C compiler, application specific hardware platforms and software development kits. CCS' products accelerate development of energy saving industrial automation, wireless and wired communication, automotive, medical device and consumer product applications. Established in 1992, CCS is a Microchip Premier 3rd Party Partner. For more information, please visit http://www.ccsinfo.com.

PIC® MCU, MPLAB® IDE, MPLAB® ICD2, MPLAB® ICD3 and dsPIC® are registered trademarks of Microchip Technology Inc. in the U.S. and other countries.