CCS News
Fast and Easy Programming with Prime8 and LOAD-n-GO!
Wednesday 09 April, 2014
The Prime8 firmware v.1.14 and LOAD-n-GO firmware v.1.22 software updates introduce many new features! Enhancements to minimum and maximum programming limits and slot file naming makes programming with the Prime8 and LOAD-n-GO easier and faster than ever.

Both the Prime8 and LOAD-n-GO Programmers offer the ability to store programs to a specific slot, for rapid deployment using the on-board Flash. The firmware update to these programmers now sets the default maximum writes per slot to 'unlimited'. This feature provides the user complete control over the programmer with the flexibility of any number of writes to the target. The maximum writes per slot can be modified using the CCSLOAD Programer Software v.5.00.

The Prime8 now allows users the ability to save a file name to the internal memory slot and enable or disable file names displayed on the LCD. This feature enables the user to easily find the slot, and readily program versus having to remember which slot you programmed a file to.

To update the firmware on the Prime8 or LOAD-n-GO simply connect either programmer unit to your PC and open the CCSLOAD Software. From the 'Diagnostics' tab select the 'Update Firmware' button. From the drop-down menu select the latest firmware version and select the 'Load Firmware' button. You will now have the latest firmware version installed to access these neat, new features.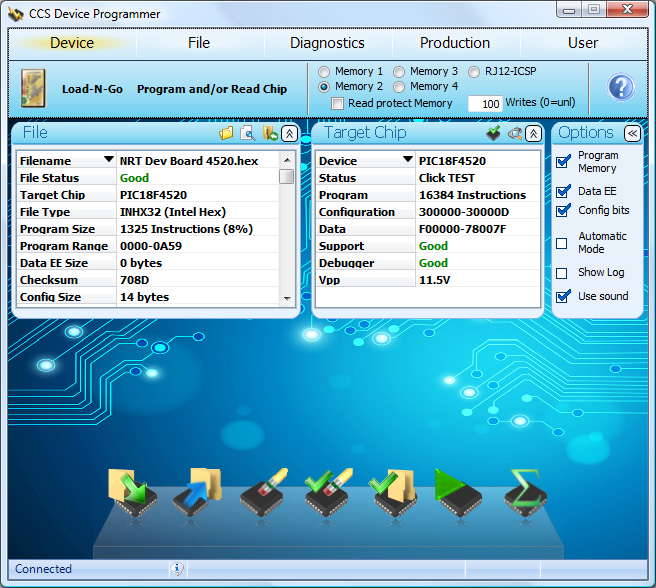 Like us on Facebook. Follow us on Twitter.

About CCS:

CCS is a leading worldwide supplier of embedded software development tools that enable companies to develop premium products based on Microchip PIC® MCU and dsPIC® DSC devices. Complete proven tool chains from CCS include a code optimizing C compiler, application specific hardware platforms and software development kits. CCS' products accelerate development of energy saving industrial automation, wireless and wired communication, automotive, medical device and consumer product applications. Established in 1992, CCS is a Microchip Premier 3rd Party Partner. For more information, please visit http://www.ccsinfo.com.

PIC® MCU, MPLAB® IDE, MPLAB® ICD2, MPLAB® ICD3 and dsPIC® are registered trademarks of Microchip Technology Inc. in the U.S. and other countries.