CCS News
Fast and Easy Programming with CCSLOAD!
Wednesday 12 March, 2014
CCS is now undergoing beta testing for the latest version of the CCSLoad Programmer Control Software, available on our downloads page! New features include: Auto Programming and Improved Logging!




In addition to a new look, we have added an improved automatic programming mode which makes it fast and easy to program multiple devices sequentially. In this mode, the target device is automatically detected and programmed with the selected file. After programming, you are instructed to disconnect the target and connect another, repeating this cycle until you disable the automatic programming mode.

We have also improved the logging and viewing of specific log information. You can now view log information from a panel in the software. This is especially useful when writing target chips with serial numbers, as the serial number data is displayed for each target that is programmed as it is programmed.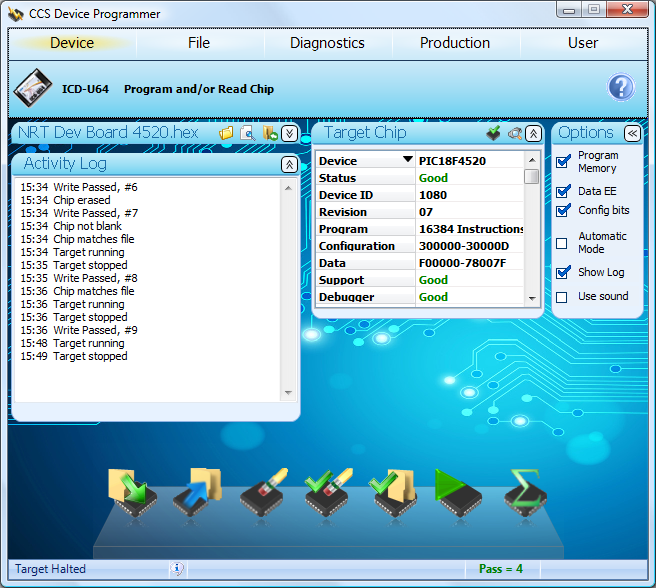 We are also looking for input from you! This is a beta test, so if you have any feature requests for this new version or experience any bugs, let us know! Please email marketing@ccsinfo.com

Like us on Facebook. Follow us on Twitter.

About CCS:

CCS is a leading worldwide supplier of embedded software development tools that enable companies to develop premium products based on Microchip PIC® MCU and dsPIC® DSC devices. Complete proven tool chains from CCS include a code optimizing C compiler, application specific hardware platforms and software development kits. CCS' products accelerate development of energy saving industrial automation, wireless and wired communication, automotive, medical device and consumer product applications. Established in 1992, CCS is a Microchip Premier 3rd Party Partner. For more information, please visit http://www.ccsinfo.com.

PIC® MCU, MPLAB® IDE, MPLAB® ICD2, MPLAB® ICD3 and dsPIC® are registered trademarks of Microchip Technology Inc. in the U.S. and other countries.