CCS News
Windows 8.1 Support Tips and the New CCS App
Monday 03 March, 2014
CCS, Inc. is pleased to announce its Windows 8.1 compatibility. Below are some tips to consider while using Windows 7, 8 & 8.1:

No need to troubleshoot compatibility
Even with User Account Control disabled, you will sometimes need to run the IDE as administrator.

For example if you change the installation files.
Note that even though you are the administrator it does not mean the program will run as administrator. You will have to manually select "Run as administrator" yourself.
To run as administrator simply right-click the Compiler icon on the desktop and select: "Run as administrator"
Running the installer may also require running as admin.

It is highly recommended to use the Windows 8.1 default directory structure

Projects must be saved in a location the compiler has permission to access. Under "My Documents" is best. To locate the project directory that is setup during installation use:

Windows 7: Start > All Programs > PIC-C > Project Dir
Windows 8: Start Screen > Search: "Project Dir" > Select top result

Use "C:Program FilesPICC" on 32-bit systems, or "C:Program Files (x86)PICC" on 64-bit systems for install location
This will prevent possible problems during usage


CCS has published a New Windows 8 App available for download through the Windows Store. Downloading the app provides access everything from CCS in one place. Features of the new CCS App:


Access to the CCS C Compiler: Easily launch the compiler from the app with a single click!
Launch CCSLOAD: For quick programming of chips!
Automatic Alerts: For updates for CCS software tools!
Recent Projects: Easily open a project from the file directory where C projects are saved.
News Articles: Find the most recent news articles from CCS all in one place. Catch up on the latest CCS has to offer with this handy feature!


We invite you to download the Free CCS Windows 8 App from the Windows Store today! http://bit.ly/1gq2JcO
The CCS Windows 8 App and Compiler Software Products are compatible with Windows versions 8 and 8.1.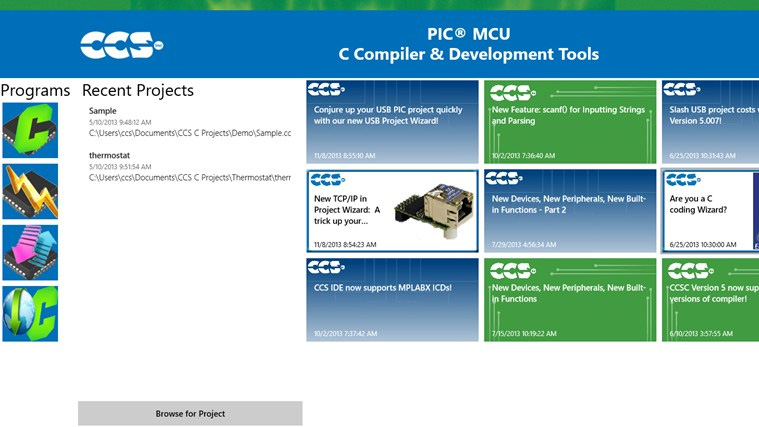 Like us on Facebook. Follow us on Twitter.

About CCS:

CCS is a leading worldwide supplier of embedded software development tools that enable companies to develop premium products based on Microchip PIC® MCU and dsPIC® DSC devices. Complete proven tool chains from CCS include a code optimizing C compiler, application specific hardware platforms and software development kits. CCS' products accelerate development of energy saving industrial automation, wireless and wired communication, automotive, medical device and consumer product applications. Established in 1992, CCS is a Microchip Premier 3rd Party Partner. For more information, please visit http://www.ccsinfo.com.