CCS News
Tech Note: Easily Edit using the C-Aware IDE Column Editing Feature
Monday 03 March, 2014
The Editor in the V5 IDE has a column editing feature. This is useful if there are several lines that start or contain the same block of text but need to be replaced or edited. To use this feature, press the CTRL key on the keyboard while using the left mouse button on the mouse to select a block of text. Pressing DEL will delete that block of text, or typing will replace the text within the block with new text you type on each line.

This can also be used to simply insert he same text at a given spot on a group of lines. To do that select a thin column where you want the text inserted.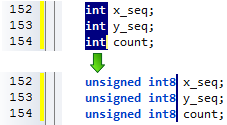 Like us on Facebook. Follow us on Twitter.

About CCS:

CCS is a leading worldwide supplier of embedded software development tools that enable companies to develop premium products based on Microchip PIC® MCU and dsPIC® DSC devices. Complete proven tool chains from CCS include a code optimizing C compiler, application specific hardware platforms and software development kits. CCS' products accelerate development of energy saving industrial automation, wireless and wired communication, automotive, medical device and consumer product applications. Established in 1992, CCS is a Microchip Premier 3rd Party Partner. For more information, please visit http://www.ccsinfo.com.