EZ Web Lynx WiFi
Sku: 59102-1312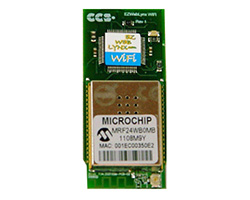 | | |
| --- | --- |
| Quantity | Price |
| 1-25: | $67 |
| 26-99: | $59 |
| 100-999: | $47 |
| More: | RFQ |
Use HTML to add wireless monitoring and control capability to your products with EZ Web Lynx WiFi. Eliminate the complexity and cost of developing your own RF circuitry. It also features a higher performance MCU with additional PWM and timer channels for more demanding applications. Runs at 3.3V.
EZ Web Lynx WiFi Advantages:
17 I/O pins (6 can be analog). Analog inputs have a range from Vdd to GND and a resolution of (Vdd-GND)/256
2 I/O pins can communicate with Dallas sensors over an I2C bus to monitor temperature in Fahrenheit or Celsius
2 I/O pins can be used to implement a serial communications channel
4 I/O pins can be configured as PWM and 4 as timers
256 8-bit volatile and non-volatile registers are provided for data storage
Configurable serial capture buffer allows EZ Web Lynx to automatically capture a specific frame of serial data based on user specified start and stop conditions
802.11 b radio compatible with g/n has 1 and 2 Mbps data rate
Channels individually selectable or domain restricted
EZ Web Lynx WiFi Key Features:
Integrated web server and 802.11 transceiver bridges I/O to wireless router
Serves custom HTML dynamic web pages for displaying data
Sends email notifications of event driven alarms and/or daily status
Serial AT command interface allows user to configure and operate the device without a network connection
UDP server interface included to accept AT commands and works with the EZ Web Lynx IDE to configure the device
HTTP CGI interface commands can be issued to the EZ Web Lynx using HTTP CGI GET and POST commands
Permits full modification of its networking settings, allowing easy integration into networks
Device Lock password protects EZ Web Lynx from changing the configuration of the device
Pin Lock allows I/O pins to be locked in their current state to prevent mode configurations from being modified
WLAN encryption options include Open, WEP 64 and 128-bit encryption (WPA), and AES-CCMP hardware implementation as part of the 802.11i security standard (WPA2)
Scan for available access points and return SSID, security type and signal strength
Supports automatic connection to open access point with strongest signal and auto reconnection if signal is lost
Get started quickly using the EZ Web Lynx WiFi Development Kit!
EZ Web Lynx WiFi Information