Tag-Connect
Sku: 53025-851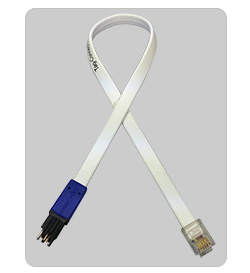 $34.95
Mfg: Tag-Connect
Mfg P/N: TC2030-MCP-10
Description: 6-pin cable with RJ12 modular plug, 10 in.
Save production costs with Tag-Connect
Eliminate the ICSP™ connector on your product. Tag Connect is a new type of production ICSP™ Programming cable.
Benefits
Direct pin-to-circuit connection
Less square area on PCB
ICSP™ Program AND debug capabilities
Modular end to work with existing ICD programmers on the market
2 Easy Steps for saving money
Put the connector footprint on your PCB
Buy the ICSP™ Programming Cable which works with all CCS Programmer/Debuggers.
Additional Resources
Note: It is the users responsibility to check both the decals and the tolerances used by the PCB fab will meet the spec given in the drawings. In particular finished alignment pin hole size must be a minimum of 0.035" and no solder paste should be deposited on the spring-pin pads.