SXC Compiler
Sku: 52995-260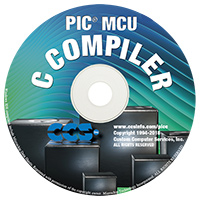 CCS C Compiler Products

Device Family
$199
SXC Software (Windows)
52995-260
$50
SXC Add-on*
52997-262
$99
SXC One-Year
Maintenance
52996-263
The CCS SXC Compiler is designed for easy embedded product development in C. The following Scenix chips are supported with the CCS SXC Compiler: SX20AC/SS, SX28AC/SS, SX28AC/SS-G, SX28/AC/DP-G, SX48BD, SX48BD-G and SX52BD. The CCS SXC Compiler generates compatible hex files and debug files that are easily integrated into the SX-Key IDE programming and debugging environment. Source files and example projects are also included.
The compiler is available for download through our website.
Click here for more information about using your Parallax SX-Key.
Click here to view the Software License Agreement.
* SXC Add-on to PCW/PCWH/PCWHD
The SXC Add-on software will allow you to add support for Scenix (SX) microprocessors to an existing PCW, PCWH or PCWHD compiler. This product is only available to those who already own a CCS PCW, PCWH or PCWHD compiler.
SXC Compiler One-Year Maintenance
Maintenance includes one year of download access to new versions of SXC Compiler.
The latest versions of SXC include updated features, device support, and new source code examples and drivers. A full copy of SXC must be purchased before you can purchase a Maintenance Plan for SXC. A Maintenance Plan for SXC can be purchased at any time, there is not a specified time requirement for purchasing, nor is continuous coverage needed to purchase Maintenance.
Maintenance is available for download through our website.