Robotics Development Kit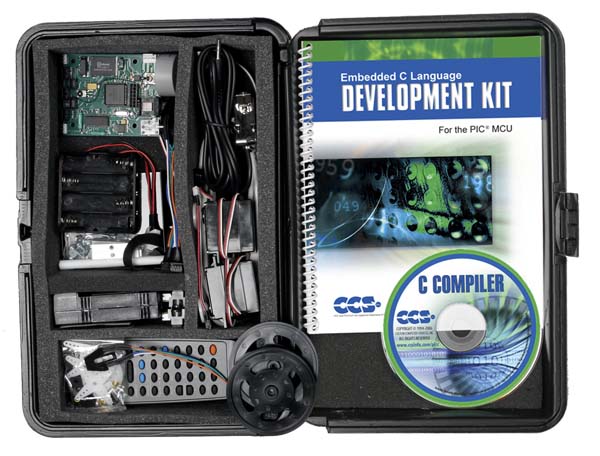 Development Kit Options
Tools Included
w/Compiler

Hardware
Only*

Sku

S-39
53317-495
Compiler Software
PCW
Programmer
Prototyping board
Power supply & cables
Exercise book
Price
$534
$209
Product Out of Stock
*Hardware only is intended for customers already owning a CCS compiler.
The Robotics Development Kit offers an introduction into the world of robots for both beginners and advanced robot enthusiasts. The development kit includes the powerful PCW Integrated Development Environment with compiler support for Microchip's PIC® PIC10, PIC12 and PIC16 families and an ICD-U64 in-circuit programmer/debugger that supports C-aware real time debugging. The prototyping board has a variety of devices for every robot to be able to interact with its environment. The devices allow the robot to see, sense magnetic fields, speak, accept external commands, and move; making it fit for robot sumo competition.
The Robotics Prototyping Board (Size: 3" x 2.375") Includes: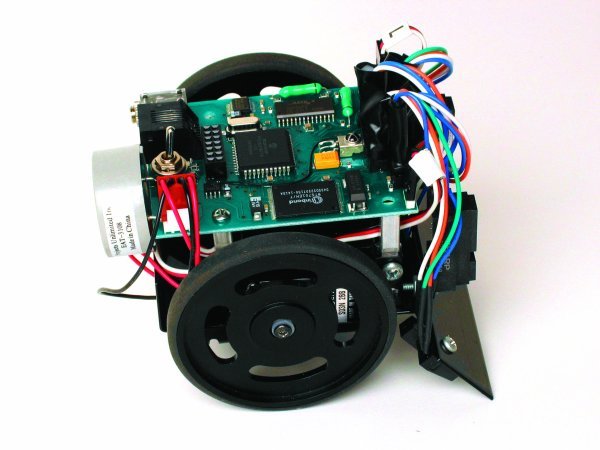 PIC16LF877A
10 I/O Pins (2 Can Be Analog)
Electronic Compass
WTS701 Text-to-Speech Converter with Speaker
RS-232 Interface
Expansion Port for Additional Functionality
Proximity Detection
Infrared Detection
Ball Bearing Servo Motors
Durable Chassis
The exercise tutorial included in the kit will quickly teach you how to use the embedded programming tools and get you on your way to developing applications for the robot. Each device has its own chapter, describing how to operate and use its drivers. Bonus chapters on Real Time Operating Systems (RTOS) and advanced project ideas are included.
The electronic compass and text-to-speech converter are unique to the CCS Robotics Kit. The compass allows the robot to move freely and still know its heading and location. The text-to-speech converter provides a more personal way to interact with people.
The Robotics Development Kit Includes:
Robot Assembly Kit
Controller Board
Exercise Tutorial
In-Circuit Debugger/Programmer
TV Remote
Cables
Click here to view the Prototyping Accessories.