Overview

The latest addition to the CCS family of programmers/debuggers, Prime8 has eight In-Circuit Serial Programming (ICSP™ ) jacks which enable high volume device programming by allowing up to eight targets to be programmed at once or individual targets to be selected. The flexibility of Prime8 allows for use of an SD card reader to eliminate the the need for a PC at the point of programming.






_____________________
Hardware Features

2 MB internal memory
8 selectable targets
Can supply up to 200 mA to each target
Supports 2.0V to 5V targets
The SD card reader eliminates the need for a PC at the point of programming
The LCD menu and control buttons allow the user to instruct the unit to program a device, verify the program status, enable individual targets, specify hex file, read the device serial ID and create unique serial numbers
Green/Red Pass/Fail LEDs for each target
RoHS compliant

Standalone Features

The ID memory, allows the user to store checksum or program information that can be read and displayed. This can be used to verify the correct firmware has been loaded to the processor, even if the device has been read-protected.
Prime8 serial numbering capability assigns a unique serial number to devices during programming and is ideal in production environments
Ability to read HEX file from SD card or internal memory
Store HEX files on internal memory or SD card
Create eight user configurable programming routines
Read device ID
The user may configure jobs to save the following characteristics:

Target voltage
HEX file
Serial numbers
Software Features
CCSLOAD Programmer Control Software easily steps the user through the process of loading firmware
Using the Device Screen the user can:

Easily configure the Prime8 to provide the target voltage
Save up to four HEX files in Prime8 internal memory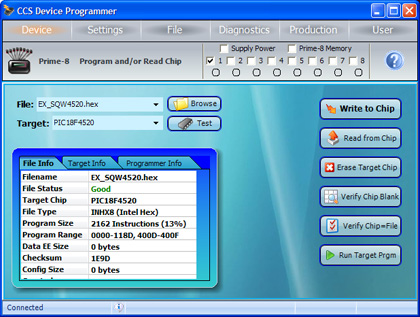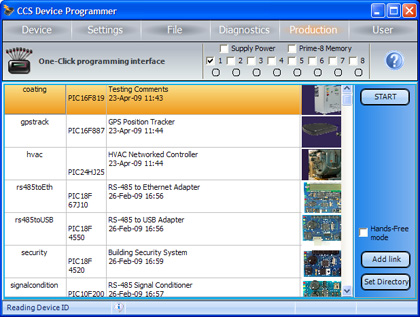 The Production Interface shows a summary of all HEX files, including the target processor, description of the program and optional product image. The File Selector is useful in production settings, as you can choose and burn target processors with the least amount of user input.
CCS Programmer Control Software is designed for easy set-up, programming and device verification on the Prime8.
The software gives the user the ability to utilize these key features:
Powerful Command Line Options
Both GUI (graphics pop-up) and Console (DOS like) versions
Linux version with same commands
Perform all operations, control settings and evaluate results from a command line, preset desktop icon or form your own PC software
Easy to use Production Interface
Point, click and program
Associate comments and images with hex files for easy selection
Hands-Free mode will start programming each time a new target is connected to the programmer
PC audio cues indicate success and fail
Extensive Diagnostics
Each target pin connection can be individually tested
Programming and debugging is tested with known good programs
Various PC driver tests to identify specific driver installation problems
Enhanced Security Options
Erase chips that failed programming
Verify protected code so that it cannot be read after programming
File wide CRC checking
Prime8
Production
Programmer
$899.00
FREE Downloads
New unit firmware can be downloaded from the web to add support for new devices. Free!
Simply write it, program it and verify it - it is so easy even a non-technical operator can use the Prime8!
Additional Information